Causes of Bleeding Gums and Gum Disease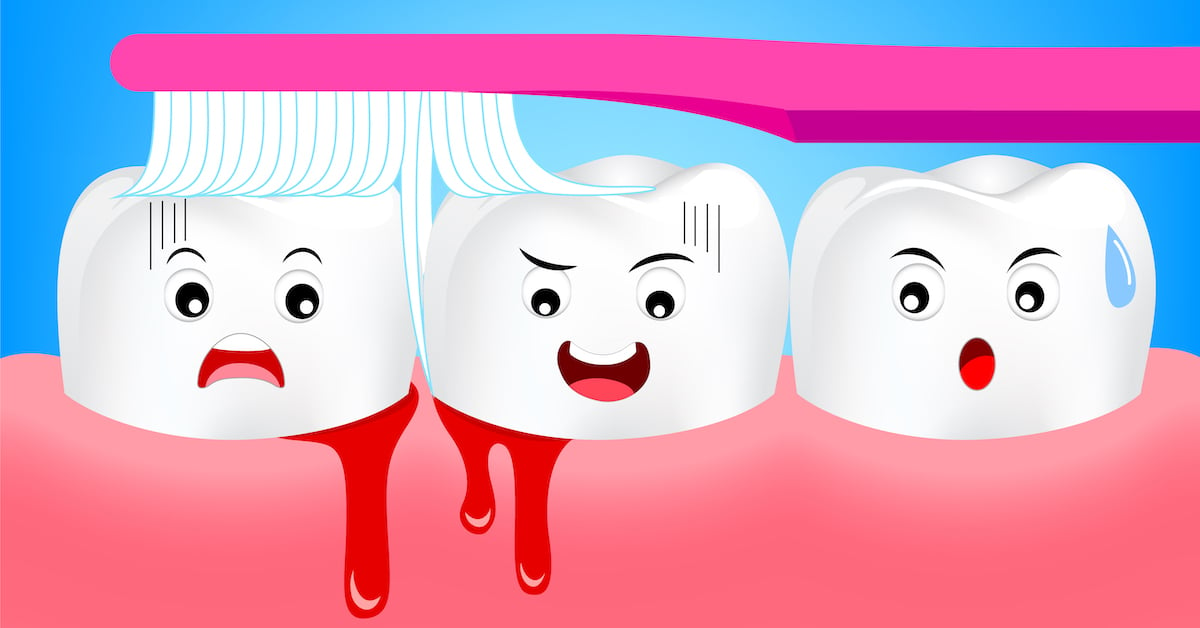 Keeping Your Gums Healthy
Your gums are the soft tissues that hold your teeth your teeth in place, and cover the tooth roots and the bones that compose your jaw. They also act much like a protective seal, providing protection from infectious bacteria. If it wasn't for your gum tissue, food debris and bacteria could reach down into the sensitive parts of your teeth. Given the essential role your gum tissue plays, it's important to learn all that you can about one serious, yet common, problem that can develop and negatively affect your oral health; gum disease.
An Overview of Gum Disease
Gum disease is a common infection that affects the gums, supporting bones, and connective ligaments. It's caused by the accumulation of bacteria between your teeth and under the gum line. Your immune system produces toxins to fight against this bacteria, which also affects healthy gum tissue.
There are three general stages of gum disease. These include:
Gingivitis: As the mildest form of gum disease, gingivitis causes bright red gums that are swollen and bleed easily. These signs of inflammation occur due to bacteria that accumulate on your teeth. Gingivitis can be resolved by practicing good oral hygiene at home and receiving regular dental cleanings.
Periodontitis: Periodontitis is an advanced stage of gum disease and occurs when gingivitis isn't treated. As the inner layer of gum tissue and bone start to pull away from your teeth, pockets form, and this is where bacteria collect.
Advanced periodontitis: In this stage, the tissues and bones that support your teeth are damaged, causing your teeth to loosen and become unstable. There is no cure for advanced periodontitis, only measures to slow and repair some damage.
What Increases My Risk of Developing Gum Disease?
Plaque and bacteria are the primary causes of periodontal disease, but there are also many factors that can affect the levels of bacteria in your mouth. If you have any of these risk factors, be sure to focus on a consistent brushing and flossing routine:
Medications: Many medications cause dry mouth as a side effect, and this lack of saliva makes it easy for plaque to stick to your teeth. Saliva helps to wash away plaque and bacteria. Examples of medications that cause dry mouth include blood pressure or heart medications, seizure medication, antidepressants, antihistamines, and lung inhalers.
Hormones: Fluctuating changes in hormone levels can change the environment in your mouth, making your gum tissue more sensitive. This includes events such as pregnancy, puberty, and menopause.
Stress: If you experience a lot of stress, it can weaken your immune system and make it more difficult to ward off a bacterial infection caused by gum disease.
Diseases: Certain medical conditions can place raise your risk of gum disease. Diabetes can decrease your body's immune response, making you more susceptible to infection. Rheumatoid arthritis creates an inflammatory response, making it difficult to prevent and treat gum disease.
Genetics: Research has shown that some people are genetically prone to developing gum disease if a family member also had the disease.
Neglecting your oral health: If you neglect your oral health and fail to brush and floss every day, you're creating an environment in your mouth that promotes the growth of bacteria and plaque. Visiting your dentist twice a year is also an important component of maintaining good oral health.
Tobacco use: Smoking and using tobacco products compromises your immune system and can make it difficult for you to fight infection. This not only raises your risk of gum disease, but it can also negatively affect gum disease treatment.
How to Tell If You Have Gum Disease
Have you noticed that your gums bleed a little when you're brushing or flossing? Bleeding gums can be one of the first signs of gum disease. You should also take note of the color of your gums. Healthy gums are typically a light pink. Red, inflamed gums are another indicator of gum disease. In addition to red gums that bleed while brushing or flossing, here are some other signs of gum disease:
Tender gums
Chronic bad breath or unpleasant taste in your mouth
Teeth that are loose or shifting in your mouth
A change in how your teeth fit together when you bite down
Gums that are starting to recede and pull away from the teeth
A change in the way your dentures fit
If you notice any of these symptoms, you should call our office to schedule a checkup right away. During your exam, the dentist will assess the health of your gums and determine whether you have gum disease.
How Do You Prevent Gum Disease?
Taking the time to invest in your oral health can go a long way towards reducing your risk of periodontal disease. Here are some tips to help keep your entire mouth healthy:
Brush your teeth at least twice a day, preferably after you wake up and before you go to bed. Make sure you brush for at least two minutes each time. Choose a soft-bristled toothbrush that lets you reach the surfaces of all of your teeth.
Floss once a day to remove food particles and clean hard-to-reach places that you might miss while brushing.
Avoid starchy and sugary foods and drinks. The sugar and starch in your favorite foods react with the bacteria found in your mouth, producing an acid that harms your tooth enamel. This reaction makes your teeth susceptible to gum disease and tooth decay.
Use mouthwash. Swishing with mouthwash helps kill bacteria and rinses away any leftover food particles or debris that you might miss while brushing or flossing.
Visit your dentist every six months. Professional dental cleanings are important because it's impossible to remove all substances from your teeth at home, especially hardened tartar. During a dental exam, your dentist can detect the earliest signs of gum disease, so it can be successfully treated and reversed.
Keep in mind that it's far better to spend the time and money to visit your dentist regularly than neglect your oral health and face the consequences of costly and painful procedures.